We all know about Ramayana but today we will tell about one such incident of Ramayana which very few people know.
In the book Kishkinda Kand, a book of Ramayana, Bali has been described from chapters 5 to 26, yet Bali has played the main role in Ramayana, especially about the slaughter of Bali,
Bali was the elder brother of Sugriva and king of Kishkindha, And he is also said to be the son of Indar, we all know that Bali had the blessing of Brahma Ji that whoever would fight with him, half of his force would go inside Bali, this boon A warrior was not known in front of Baran, because of this boon, Bali killed a demon named Dudambhi with the force of 10,000 elephants, after Dudabhi, Bali also killed his brother Mayavi in ​​a cave. After this incident, vigor had arisen in Bali and Sugriva, due to this power, no god, demon, or human was able to fight with the monkey king Bali,
But in this post we are going to tell you about an incident when a war started between Mahabali Bali and Mahashaktisali, Paramveer Hanuman, what happened then, did Mahabali Bali also defeat Hanuman ji because of his boon Then Hanuman did not walk in front of Lord Brahma, stay with us to know this.
It is said that when the war started between the monkey king Bali Asur Raj Ravana, Bali kept Ravana in his side for 7 months and did penance, finally Ravana from Bali Everyone agreed and proposed friendship to Bali and the two became friends, after this war, Bali's pride had increased greatly and Bali kept challenging all people to war,
One day, like every day, Bali was screaming in the forest, someone who could fight with me, someone who drank his mother's milk, Hanuman ji was doing penance in the same forest and meditating on his Aradhya Bhagavan, Bali His austerity was disturbed by shouting, yet he humbly said to Bali, You are very powerful, no one can beat you but why are you screaming like this,
Hearing Hanuman's words, Bali became angry and on this he challenged Hanuman ji as well as the adorable Hanuman ji and said, can you not defeat me only if your Ram, if you have the strength, call your Ram,
Hearing the name of his Lord Ram, Hanuman ji got angry and accepted the challenge of Bali, and decided to battle that there would be a riot between the two as soon as sunrise, Hanuman ji left for riot as soon as sunrise the next day. It was only then that Brahma Ji appeared in front of Hanuman ji, he tried to understand Hanuman ji that he should not accept the challenge of Bali, to which Hanuman Ji said that Lord Bali If I had only challenged me, I would have forgiven him, but he has challenged my adorable Lord Rama, so I have to learn a lesson from him, and Hanuman ji did not agree on this. Brahma Ji said to Hanuman ji, is it okay for you to riot Go but take only one-tenth of your power and dedicate the rest at the feet of your worship and come back from the riot and earn it again,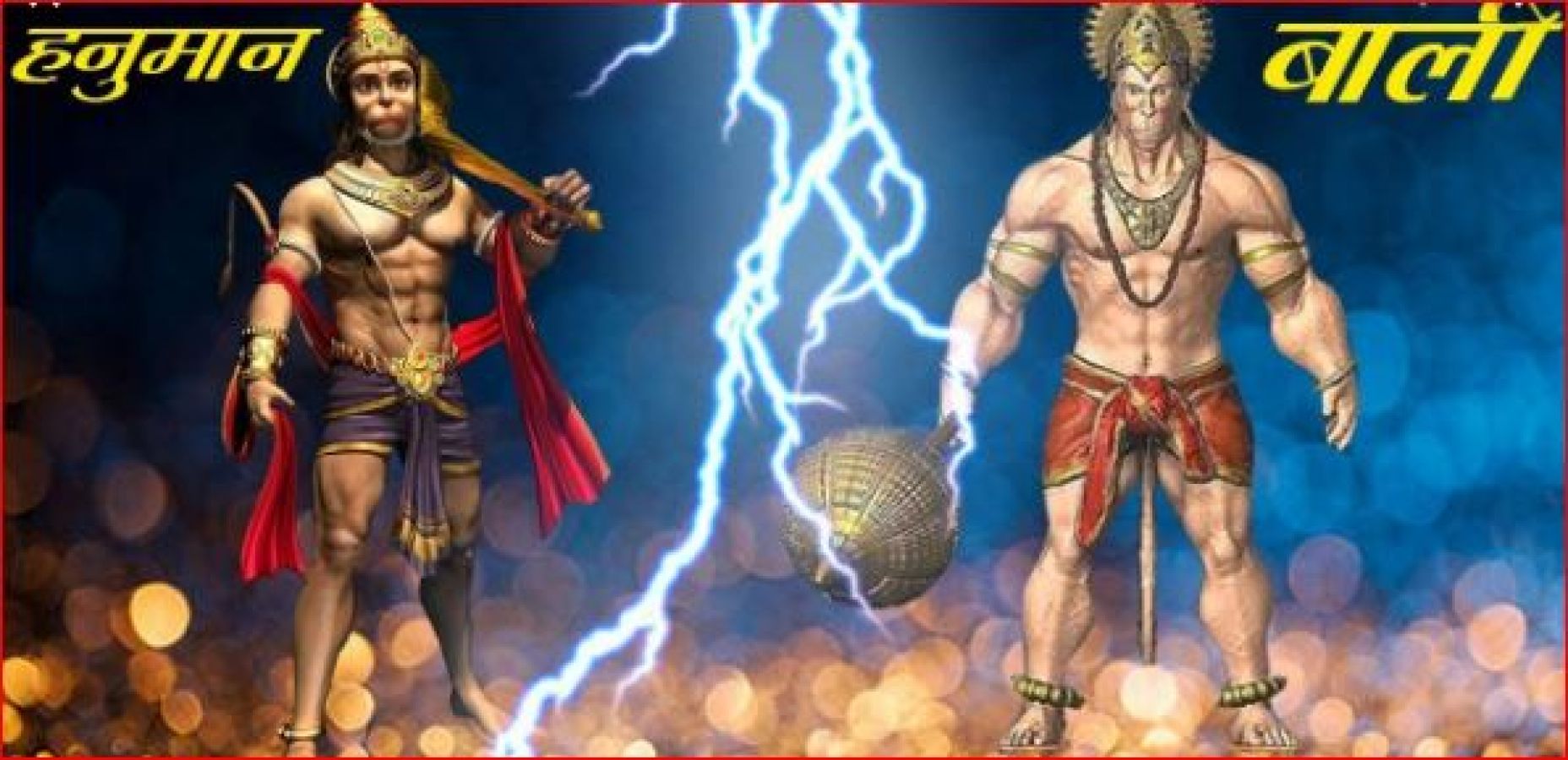 Hanuman ji agreed and proceeded with a tenth of his power, Bali pulled half of Hanuman ji's strength as he stepped into the place of the riot due to boon, and as Hanuman ji got half power in Bali's body he got it. It felt like his body would get
Tear away
, his blood would start falling out, then Brahma Ji appeared and he told Bali that you consider yourself the most powerful in the world. Neither your body is not able to handle even a small part of the power of Hanuman ji and narrated the whole story of himself and Hanuman and said that if you want to keep yourself alive then run away miles away from Hanuman ji, the condition of your body and Following the advice of Brahma, Bali did the same and he ran away from there, after that, Bali again came to Hanuman ji and bowed to Hanuman ji and told the strength of Hanuman ji and said. Neither notwithstanding force Hanuman remain calm and sings Ram bhajan and I am a person who does not have power equal to their force still had them cry, Lord, I
Sorry, then Hanuman ji forgave Bali and both went on their way,
Friends, this incident of Hanuman ji and Bali teaches us that no matter how rich a person is, he should never boast,
Friends, how did you find this information, please tell us in the comments as well as follow us,
Thank you
ONLINE JOBS FROM HOME , HOME BASED JOBS , DATA ENTRY JOBS , WORK FROM HOME ,

FREELANCING JOBS , COPY PASTE

JOBS , COPY PASTE WORK FROM HOME , KEYWORD , TRENDING ARTICLE , EARNING FROM HOME , ONLINE EARNING , WORK FROM HOME , SMARTHPHONE , SMARTHPHONE COMPARISION , SMARTHPHONE UNDER , CORONA VIRUS , SARKARI YOJNA , GOVT. JOBS . GOVT. SCHEME , SARKARI NOKRI , MOVIES, SONGS , FACT ABOUT ,
INFORMATION ABOUT , LOCKDOWN , LATEST , ONLINE PAYMENT , BANK , LOAN , HOME LOAN . ONLINE JOBS, INDIA , AMERICA, CHINA, CPC, LOCKDAWN